Meet Tracy Bianco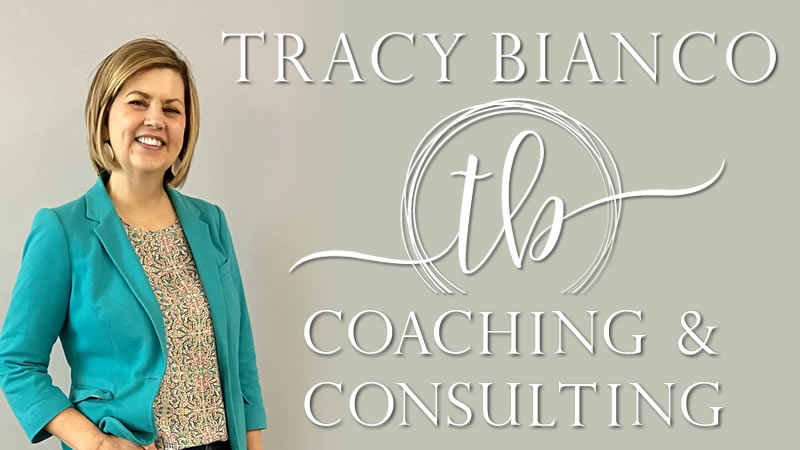 This is the first in a series of articles highlighting a Staunton Chamber of Commerce business. The Staunton Chamber of Commerce consists of a number of businesses, most of them local, who work to make Staunton succeed as a community. These are dedicated businesses and individuals who support the local organizations in many ways and provide a number of entertaining events throughout the year. It's important to shop locally, but it's even more important to shop at Chamber of Commerce businesses. Look for the Chamber of Commerce emblem when shopping.
Tracy Bianco became a member of the Staunton Chamber of Commerce to look for opportunities to volunteer to help her community. Since the beginning of her involvement in the Chamber of Commerce, she has also found ways to use the organization to grow her company.
Tracy is the owner of Tracy Bianco Coaching and Consulting based out of her home in Staunton. She considers herself to be a Leadership Coach. Tracy was a school teacher for 12 years, but was looking for other ways to use her teaching experience. She changed her career and took a job with a company in St. Louis that provided services to law firms. The company soon found ways to assign her tasks that allowed her to use her skills while training their employees and developing departments within the company. Tracy found her new job rewarding when she provided others with ways to improve themselves and their leadership skills.
Eventually she started subcontracting with an International training company where she got to meet thousands of people. It was during this time Tracy got to try different training techniques to learn what worked and what didn't work. The traveling took her away from her family life. So in 2017, Tracy took the big step and started her own company.
Tracy believes you don't find clients by showing up at meetings expecting to find customers who can use her services. She built her company by forming relationships with people at organizational meetings, which led to new clients or recommendations from the people she met. She found that belonging to Chamber of Commerce groups provided networking opportunities where she could meet with other business owners and individuals to build these relationships.
Her company has grown exponentially through satisfied customers. Some of her clients are found locally, but she also has businesses from all over the United States that she is helping. Tracy can work one on one with individuals for short coaching sessions. She can also provide teambuilding exercises tailored to a company's needs. Tracy finds it most rewarding when she contracts with businesses annually and gets the opportunity to witness the improvements she has recommended. You only need to spend a few minutes talking Tracy to see how much she enjoys her work. Her goal is to increase the number of organizations that continually contract her services.
Learn more about
Tracy Bianco Coaching & Consulting
on the
SCC Member Page
.
TAGS:
Meet SCC