Mary Beth Rae, Staunton's 2018 Citizen of the Year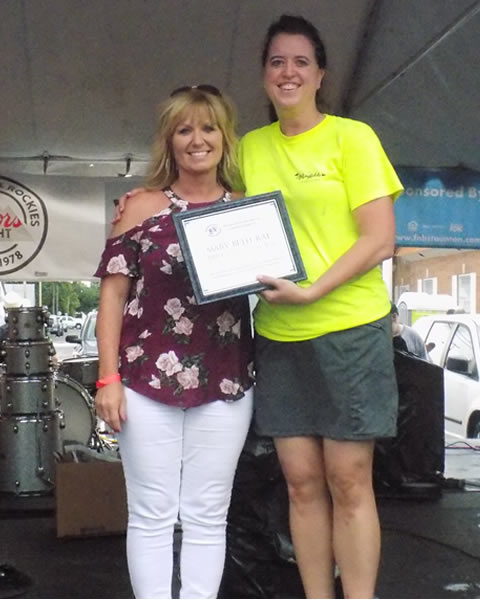 Pictured (L to R) is Staunton's 2018 Citizen of the Year, Mary Beth Rae with SCC President, Carrie Borgini.
Mary Beth Rae, owner of R&B's Restaurant, was named Staunton's 2018 Citizen of the Year. Mary Beth Rae, a lifelong resident of Staunton, graduate of Staunton High School, creator and owner of "R&B's Restaurant" for over 25 years has been an avid and strong supporter of Staunton and the surrounding communities.
An excerpt from her nomination form, "I can't think of another more positive, most giving, most caring personal all in all very fun to be around. Her energy radiates. She gives to every event, is an excellent employer, and does it with style and grace. Mary Beth promotes Staunton and its businesses. Mary Beth goes the extra mile by helping with every event especially Ribfest, Snack with Santa, School Events, plus donates her time to many organizations."
Nominations were sought from the community and voted on by the Chamber of Commerce at its 2018 July general meeting.
Carrie Borgini, Chamber President, presented Mary Beth the award at the 2018 Ribfest celebration.
Far too often we miss a basic lesson in life. That is to say, Thank You... Thank you Mary Beth! You have made Staunton a better place to Work, Play and LIVE!
TAGS:
Citizen of the Year